This spring and summer the Coalition for Better Ads has continued to pursue its mission and I wanted to take the opportunity to provide a few of the highlights since our last update:
Better Ads Standard for Short-Form Video in Effect
Video content and advertising has grown significantly in recent years in markets around the world. In February, the Coalition announced its Better Ads Standard for short-form video (content less than 8 minutes long). Three ad experiences fall beneath the Better Ads Standard for short-form video:
mid-roll ads;
pre-roll ads or pods longer than 31 seconds that cannot be skipped in the first 5 seconds; and
non-linear display ads that are in the middle 1/3 of a playing video or are larger than 20% of the video content.
Google Chrome, Microsoft Edge, and NAVER Whale expanded their user protections and stopped showing all ads on sites in any country that repeatedly show the disruptive ads identified in the Standard beginning August 5, 2020. You can learn more about the Standard on the Coalition's website.
Developing Better Ads Standards for In-App Ads - The Coalition plans additional consumer research of different ad experiences and environments, including launching new research on the in-app environment this year. App Annie reported that mobile advertising grew to $190 billion in 2019 with another jump to $240 billion forecasted by 2020.
Continued Declines Adblocker Adoption and Usage Rates – The Coalition continues to monitor the download and use of ad blocker extensions in partnership with IAB affiliates and Chrome. The trend of a slow, steady decrease in the usage of ad blockers combined with a rapid decrease in the install rate of ad blockers on new Chrome installs has continued in North America and Europe in the intervening nine months since our last report. We have also added tracking in the APAC region and have seen similarly positive results since the Better Ads Standards were announced as a global Standard last year. The charts below illustrate these trends.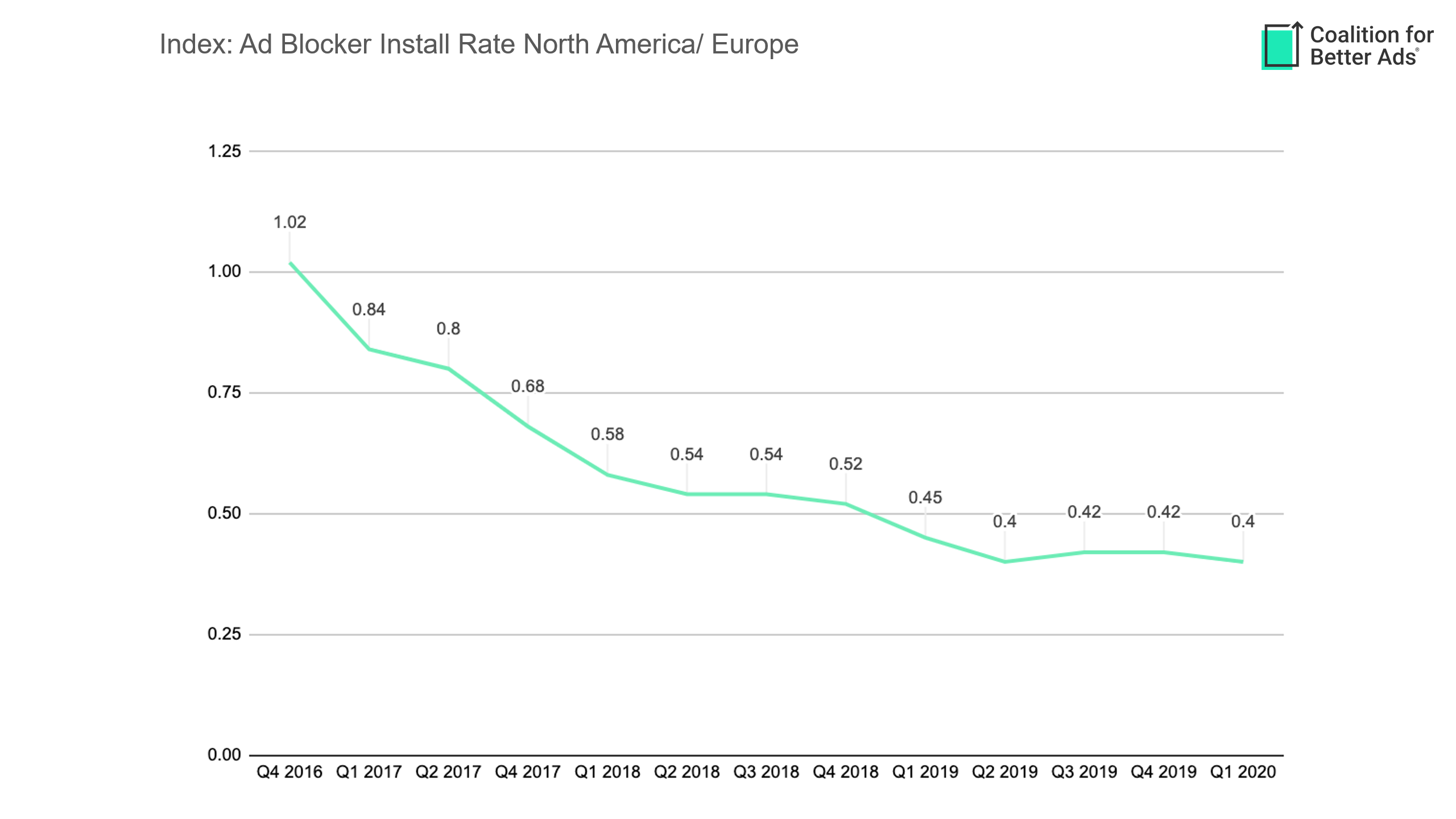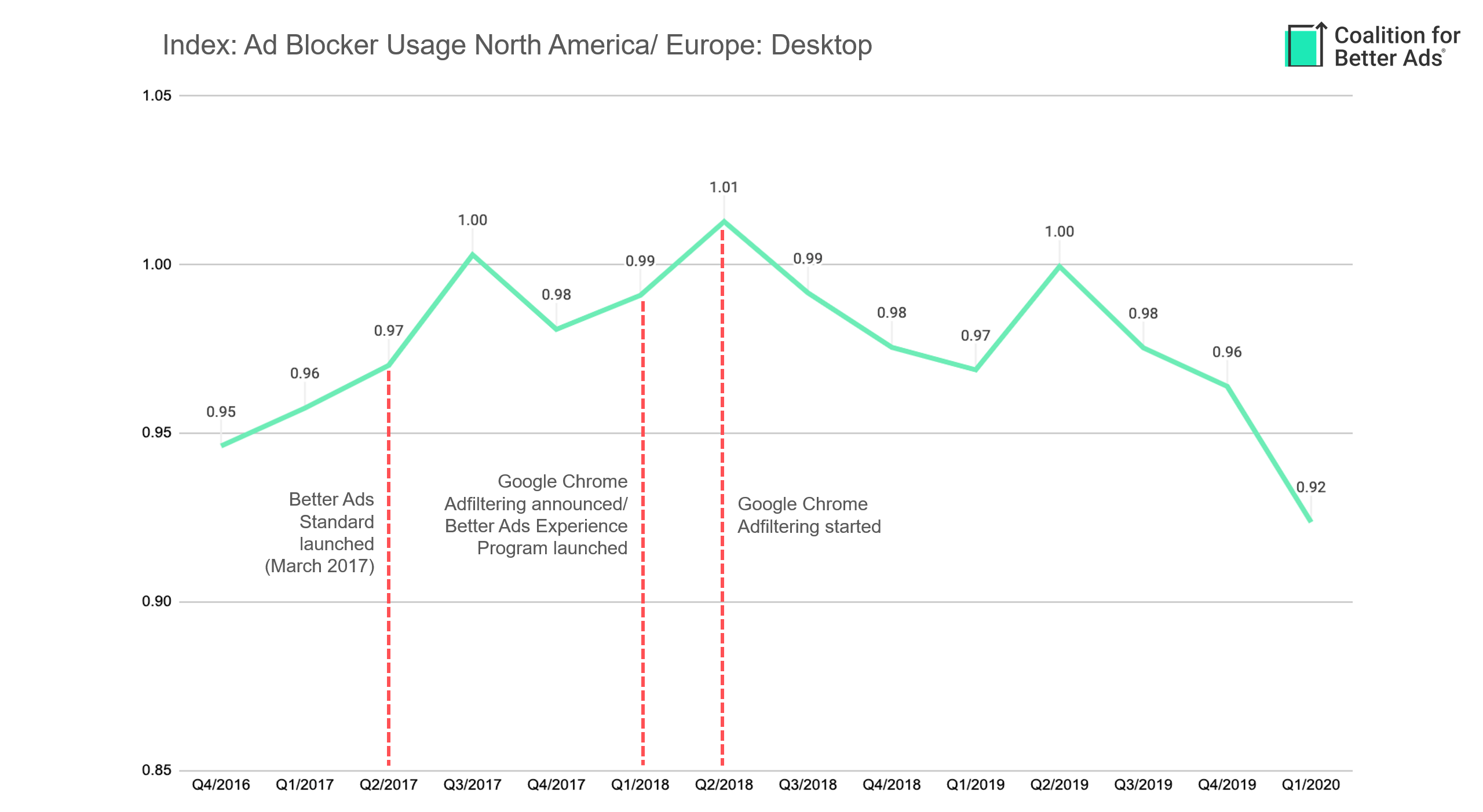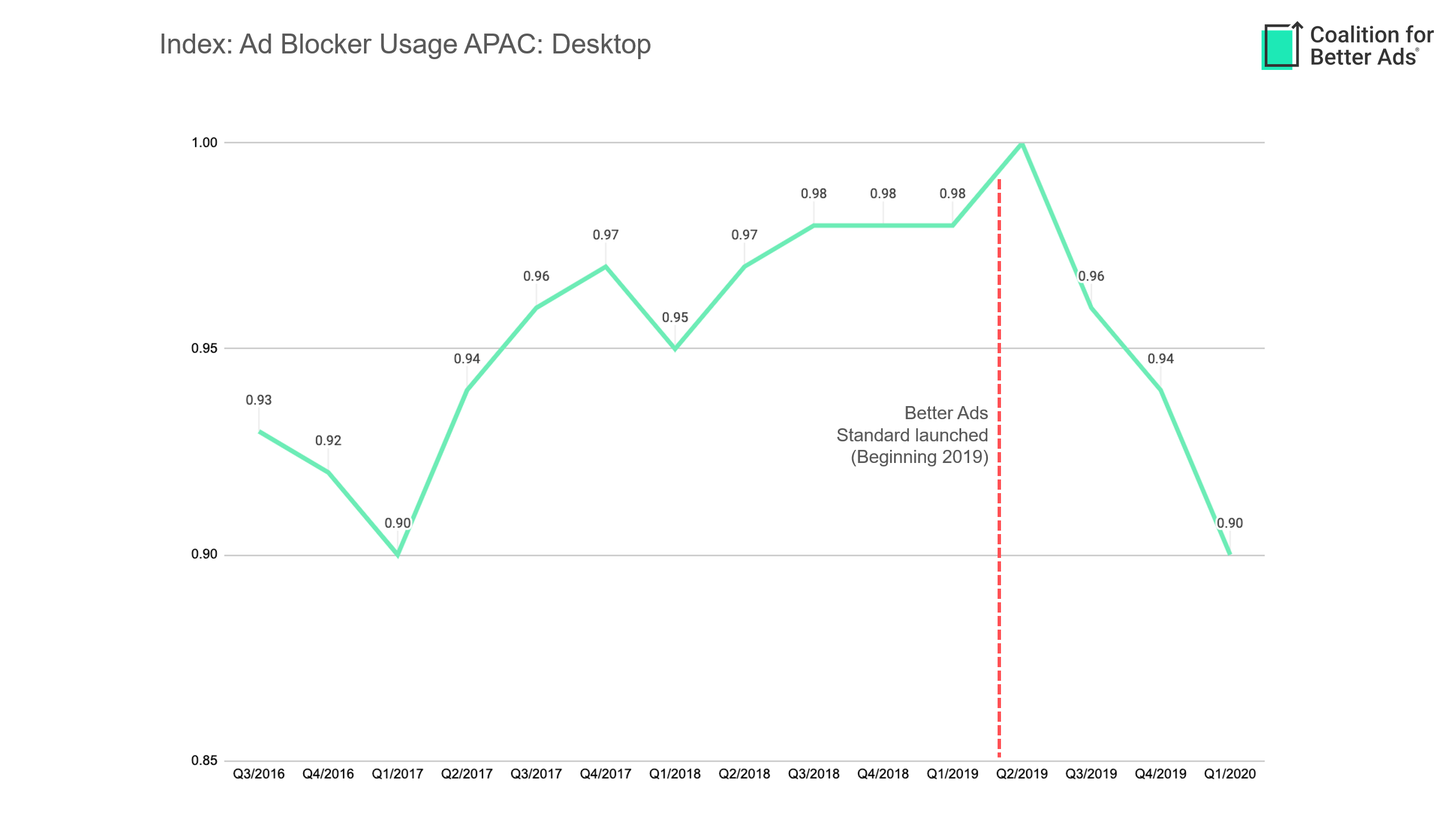 The trends identified in the Coalition's research are consistent with those found in research by others, as recently reported in Digiday. We are pleased to see that widespread publisher adoption of the Coalition's consumer-focused Standards is contributing to changes in consumer behavior that benefit publishers who are focused on improving the online ad experience for consumers.